Double Sided Adhesive Thermal Pads (Ul 94 V-0 Standards)
Posted on:2023-02-28 10:19:00
Source:AOK Thermal Pad Manufacturer Company News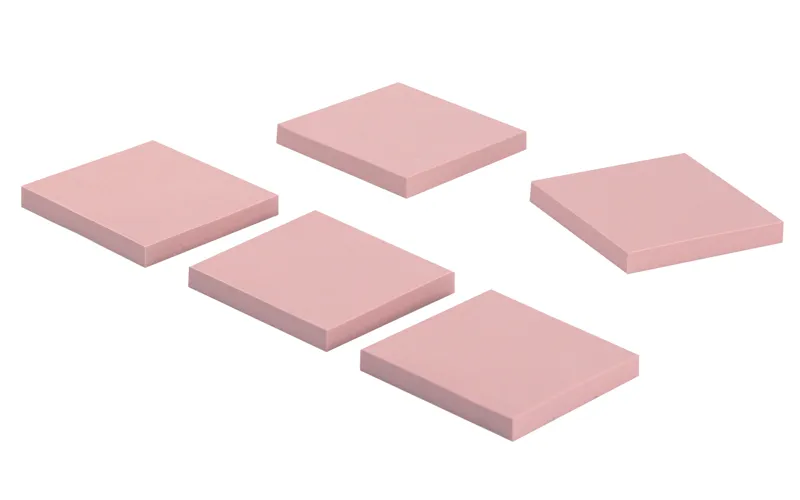 Double sided adhesive thermal pads is a kind of self adhesive thermal pads used for bonding heat sinks and other power dissipation semiconductors. These thermal pads have strong adhesive strength and low thermal resistance, which can effectively replace thermal grease and mechanical fixing.
Double sided adhesive thermal pads is mainly because the product has no fixed device or is not convenient to fix. We answer to the often difficult situation of being unable to mount the heatsink conventionally. The double sided back adhesive thermal pads can be used to fix the radiator and stick the IC to the heat sink. There is no need to design a fixed structure. With this double sided adhesive thermal pads from us it is possible to mount a heatsink at any desired spot without having to worry about mounts, hole spacing or other constructive details.
Features
• Thermal conductivity: 6.0W/m.K
• High conformability
• Easy to assembly
• Double sided self adhesive
Applications
• Between electronic components such as semiconductor, IC, CPU, MOS and heat sink, LCD-TV
• Assembly of LED light bar element and metal frame
• Make the radiator fixed on the power supply circuit board or the vehicle control circuit board
AOK was founded with the mission of providing the best performance & humanized electronic cooling solutions for worldwide customers. Design and manufacture a comprehensive range of high quality products, covering desktop cooling solutions, EV cooling solutions, server cooling solutions, embedded cooling solutions, and other thermal components. Our goal is to maintain customer satisfaction by serving our customer's ever-changing thermal needs and providing the quickest and most comprehensive service available.
If you would like to learn more about AOK performance thermal materials, please visit our website at www.aok-technologies.com.
Updated on:2023-07-10 10:46:59