Why thermal conductive sealant is needed?
Article keywords :thermal conductive sealant
An increasing number of applications call for thermal conductive sealant, in part due to significant heat generation by modern electronics components. The heat is on electronic boards and assemblies as the number density and operating frequencies of components increases. Thermal conductive sealant can be found in a wide variety of manufacturing applications such as electrical and electronic devices, automobiles, aircrafts, consumer products, appliances, medical devices and many more.
Silicone adhesive or conducive sealant makes excellent conductive material through the addition of advanced fillers. It offers superior heat dissipation for various electronic applications. They are also used to improve conduction of heat in sensors, radiators and other thermal devices.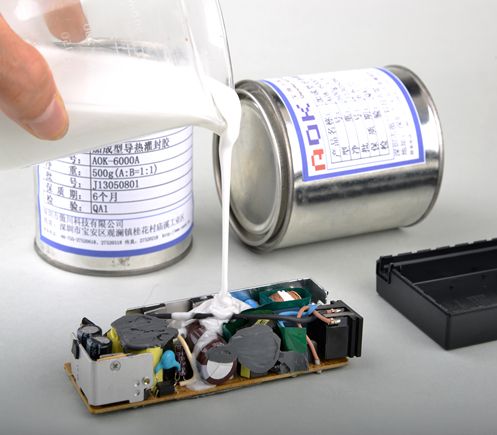 AOK has helped drive customer success in electronic applications across several end-markets, including automotive, consumer electronics, communications, industrial and energy LED lighting and semiconductor packaging. Our thermal conductive sealant is a material in LOW viscosity anci composed of double components with excellent fluidity and stability. it could be consolidated in room temperature or by heating. It is in widely application on the surface of PC, ABS, PP, PVC with metal materials, also suitable for the requirement of good thermal conductivity, highly electrical isolation, anti-water and flame retardant characteristics for electronic components, which also is qualified with EU ROHS Directive. Compared to other preformed materials of this kind, the nature of the produces can effectively reduces air gaps thereby, increases the effective dissipation of heat. As superior grade materials, thermal conductive sealants from AOK Technologies are consistently reliable at high temperatures.