AOK Invite You to Join Us at the 2023 Battery Show!
Posted on:2023-05-10 11:57:00
Source:AOK Thermal Pad Manufacturer Exhibitions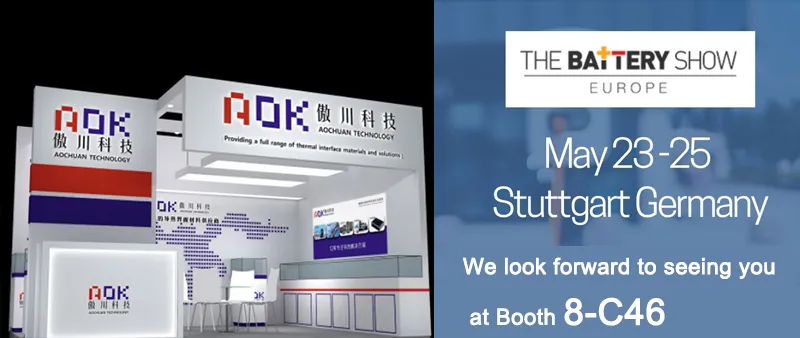 AOK would like to invite you to join us at the battery show europe 2023. The event will be held from may 23rd to 25th at messe stuttgart, stuttgart, germany. This event brings together expert industry leaders, top battery manufacturers, and inquiring buyers all in one space. It is a great opportunity to learn and explore the latest innovations in battery and electric vehicle technology.
AOK will be participating in this year's event and we would like to invite you to visit our booth. We are excited to showcase our latest thermal interface materials(TIMs), thermal management is a key enabler for efficient and safe battery systems. This remains just as critical in both conventional cell-to-module designs and the latest cell-to-pack designs. To support OEMs and battery manufacturers take on this challenge, our has developed a comprehensive and innovative portfolio of thermal interface materials that includes thermal gap fillers, thermally conductive adhesives and thermal gap pads that are suitable for all different types of battery designs and configurations, and to meet with industry peers to exchange ideas and insights. Our booth number is 8-C46, and we would be delighted to have you join us.
The battery show europe is the leading meeting place for the advanced battery and H/EV technology community. It offers a platform for battery manufacturers, suppliers, engineers, thought leaders, and decision-makers to come together for a conference and battery tech expo focused on the latest developments in the advanced battery and automotive industries. With over 10,000 attendees, 770+ suppliers, and 99+ speakers, this is a must-attend event for anyone in the industry.
AOK is a global supplier of new technologies and performance thermal materials serving the semiconductor, circuit board, display, digital and flexographic printing, healthcare, aerospace, industrial and transportation industries. From advanced technology centers worldwide, teams of talented research scientists and application experts work closely with customers, providing solutions, products, and technical services to enable next-generation technologies.
If you would like to learn more about AOK performance thermal materials, please visit our website at www.aok-technologies.com.
Updated on:2023-07-12 14:06:27